REGISTER TO VOTE
Need to register to vote? Just download this Voter Registration Form, place it in an envelope and mail to:
TRUMBULL COUNTY BOARD OF ELECTIONS
2947 YOUNGSTOWN RD. S.E.
WARREN, OH 44484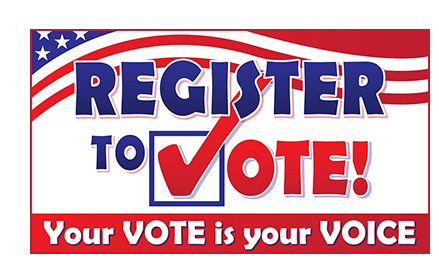 If you need Adobe Acrobat Reader, please click here for the latest free version.
**This form is designed to be filled out online -- if you choose. If you do fill the form out online, you must print, sign your signature and then place the form in an envelope and mail, to complete the registration.
**You will be notified by mail of your polling location once the registration form has been received by The Trumbull County Board of Elections office.
**NEED HELP? Download VOTER REGISTRATION INSTRUCTIONS HERE
You can also Register to Vote online by clicking here.
---
After completing and signing the voter registration form, a UOCAVA voter may return it by any one of the following methods:
in person,

by standard mail,

by fax, or

by email.
---
NOTICE TO ALL VOTERS: Identification Requirements
R.C. 3503.28(A)(1)(6)
Voters must bring identification to the polls in order to verify identity. Identification may include a current and valid photo identification, a military identification, or a copy of a current utility bill, bank statement, government check, paycheck, or other government document, other than this reminder or a voter registration notification, that shows the voter's name and current address. Voters who do not provide one of these documents will still be able to vote by providing the last four digits of the voter's social security number and by casting a provisional ballot. Voters who do not have any of the above forms of identification, including a social security number, will still be able to vote by signing an affirmation swearing to the voter's identity under penalty of election falsification and by casting a provisional ballot.
PLEASE NOTE:
If you are holding a voter registration drive and would like to request large numbers of forms, please contact the Secretary of State's publication request line at 614-466-3613 or The Trumbull County Board of Elections office at (330) 369-4050.